This page has to do with one of our favorite tv shows. The Mister and I have been long-time fans of the BBC series Doctor Who. After the series reboot in 2005, people familiar with the new series sought our advice on which classic stories to watch. We developed our list of episodes for the Who Curious. The list has includes The Doctor Who Primer and the Doctor Who Foundation.
The Doctor Who Primer are stories that allow the raw beginner to jump into the Doctor Who Universe. We chose stories that focus on the Doctor- most on the list are regeneration stories, where the series refreshes the character of the Doctor with a new actor.
If you like what you see after watching the primer stories, move on to the Doctor Who Foundation. These are stories we feel best represents each incarnation of the Doctor, includes the major villains, is not overly fraught with back story, encompasses the depth and breadth of awesomeness that is Doctor Who and is suitable for people who are more familiar with the series.
The lists provide: the name of the actor portraying the Doctor, episode title, reason we chose it, image from that story (or the book/video cover), a quote from that story and random tidbits.
The Doctor Who Primer
These are episodes that introduce you to the Doctor. Many of these are the first story of the new Doctor, where the new actor picks up the role and makes it their own.
William Hartnell
The Unearthly Child. The first story, aired 11/23/1963. "Fire will kill us all." Transmission was delayed due to the Kennedy Assassination.
Jon Pertwee
Spearhead from Space. Features the Third Doctor and introduces the Autons. The Doctor is exiled to earth by the Time Lords.
Tom Baker
The Face of Evil. Leela's first episode.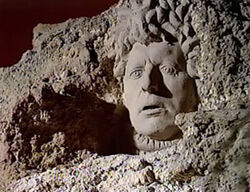 Christopher Eccleston
Rose. The series reboot story. Return of the Autons.
David Tennant
Smith and Jones. Martha's first episode.
Matt Smith
The Eleventh Hour.Matt Smith's first story. "Box falls out of the sky, man falls out of the box, man eats fish custard! And look at you…just sitting there."
The Doctor Who Foundation
William Hartnell
The Dalek Invastion of the Earth. Classic Hartnell story. "It is illegal to dump bodies in the river."
Patrick Troughton
Tomb of the Cybermen. Because Cybermen. "The King of the Beasties himself couldnae get out of that one."
Jon Pertwee
The Daemons. The best Master episode. Also, witches. "So mote it be."
Tom Baker
City of Death. Script editor: Douglas Adams. "Can anyone join this conversation or do you need a certificate?"
Peter Davison
The Caves of Androzani. Peter Davison's best story. Vote #1 Doctor story in the Doctor Who Magazine Top 200 Poll conducted in 2009. "I don't remember. I'm pretty sure it wasn't the future."
Colin Baker
Revelation of the Daleks. Because Daleks. "Did you bother to tell anyone they might be eating their own relatives?"
Sylvester McCoy
Battlefield. Arthurian Legend meets aliens. "It has a graveyard stench."
Paul McGann
Doctor Who: The TV Movie.The Doctor's first screen kiss. Oh, the scandal. Eric Roberts as The Master, who gets more flamboyant as the story rolls on. "Look, I can't make your dreams come true forever, but I can make them come true today." Paul McGann is the longest running Doctor, thanks to Big Finish audio stories. If you want a good McGann story, listen to "Dark Eyes."
Christopher Eccleston
The Empty Child/The Doctor Dances. WWII, Capt. Jack Harkness. Creepy children. "I don't know what you do to Hitler, but you frighten the hell out of me." We amended this choice since January 2014, after a lengthy discussion ensued. We broke our initial rule of "No 2-parters"
David Tennant
The Girl in the Fireplace. The Doctor on a horse. "I just snogged Madame Pompapour!"
Matt Smith
The Doctor's Wife. "I like biting. it's like kissing but with a winner."
Peter Capaldi
Listen. Thanks, Peter Moffitt, now I'm afraid of what's under the bed. "Why do we talk out loud when we know we're alone?"
Jodie Whitaker